Proximity Detector™ Position Sensors are reliable, magnetically actuated, stainless steel, completely interchangeable with competitive units and AC or DC for user friendly operation. They have no moving parts, eliminate costly seal fittings and offer enhanced reliability by eliminating arcing. Unintentional actuation by metals is not a problem.
The sensor consists of a durable hermetically sealed reed switch potted in stainless steel housing and a separate 316 stainless steel magnetic actuator bolt. As the actuator moves within the sensing range of the sensor, the magnet in the actuator changes the state of reed switch contacts inside the sensor. This either opens or closes a circuit depending on wiring configuration. Sensing distance is 0.1" (2.54 mm) for the standard actuator. Greater sensitivity of a larger magnetic actuator increases the sensing distance to 0.5" (12.7 mm).
The Detector™ is excellent for hazardous and corrosive environments, solid state and intrinsically safe applications. A Detector™ may be mounted in any position. For installation in hazardous locations be sure to check local electrical codes. The Detector™ is designed to NEMA 1, 3, 4, 4X, 6, 7, 9, 12 and 13; Class 1, Groups A, B, C and D; Class 2, Groups E, F and G; Divisions 1 and 2; and IP68 submersible.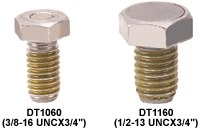 PHYSICAL DATA
Housing: 316 Stainless Steel
Hermetic Seal: Glass (inert gas)
Potting: Epoxy Resin
Temperature Range: -40 to 200°F (-40 to 104°C)
Operational Switch Life: 600,000 cycles
Sensor Actuation: Magnetic
Sensing Distance: DT1060 - 0.1" (2.54mm); DT1160 - 0.5" (12.7 mm) Contacts: Tungsten, SPDT, Form C
Current Rating: 3 amps at 120 VAC, 3 amps at 30 VDC
Intrinsically Safe: Simple Apparatus (w/ barrier)
Operating/Response Time: 3.0 m Seconds
Initial Contact Resistance: 0.50 ohms (Max)
Repeatability: 0.005 inch (.01 cm)
Hysteresis: 0.030 inch (.08 cm)
Leads: Factory sealed with 18" minimum, 4 conductor, PVC insulated, 18 AWG - green/red/black/white (ground/NC/NO/Common)
Conduit: ½" NPT
Weight: 0.32 lb. (145g); 0.45 lb. with actuator (204 g) - Standard model DT1060
STOCKED MODELS & ACTUATOR SIZES
| | | |
| --- | --- | --- |
| Model No. | Description | Sensing Distance |
| DT1060 | Detector and standard actuator | 0.1 in. |
| DT1160 | Detector and high strength actuator | 0.5 in. |